My Blog
Posts for tag: crowns
By Cumberland Pointe Dental
July 01, 2019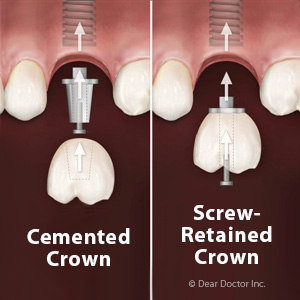 If you've lost a tooth, you have a number of options for replacing it. Perhaps the best choice in terms of lifelikeness and durability is a dental implant.
All implants have the same basic architecture: a titanium metal post imbedded in the jawbone to replace the root; and an abutment, a metal collar that links the post with a lifelike porcelain crown. But implants can vary in how the crown attaches to the abutment and post — either cemented to the abutment or screwed through the abutment to the post.
Either method will permanently secure the crown to the implant. But there are advantages and disadvantages for each.
A screw-retained crown may better facilitate any future repair that might be needed. For a skilled dentist it's a simple matter of removing the screw and then the crown from the abutment. There's less risk of damage to the implant during repairs or crown replacement. Many dentists also prefer screws for crowns placed at the same time they're installing the implant post (a procedure called immediate loading).
The screw access hole, however, could pose a cosmetic problem. Although we can cover it over with tooth-colored filling, it may still be noticeable and unattractive especially for a tooth visible when you smile (in the smile zone). There's also the possibility the porcelain around the access hole could chip.
By contrast, cemented crowns have a smooth, unbroken surface and are aesthetically ideal for smile zone teeth. But the cement could interact poorly with gum and bone tissue in some patients, causing inflammation and possible bone loss.
And unlike screw-retained crowns, cemented crowns are difficult to remove for implant repair. We may have to drill through the crown to access the screw between the abutment and the post, and then repair it cosmetically if we use the same crown. Again, the final result may not be quite as visually appealing.
In the end, it will depend on the implant's location, how your body reacts to the cement or your dentist's preference. In either case, though, you'll have a tooth replacement that's functional, life-like and able to endure for many years to come.
If you would like more information on dental implants, please contact us or schedule an appointment for a consultation. You can also learn more about this topic by reading the Dear Doctor magazine article "How Crowns Attach to Implants."
By Cumberland Pointe Dental
October 11, 2016
Learn about crowns and bridges from your Noblesville, IN dentist.
A Gallup poll found that up to a third of Americans didn't visit the dentist's office in the course of a year. Unfortunately, the longer you avoid going to the dentist's office, the higher the chance of dental problems that may require restorative work. If you've been looking for a restorative solution for your smile, crowns or bridges may be your best
option. Learn more about these common dental treatments by exploring a few frequently asked questions.

What Is the Difference Between Crowns and Bridges?
A crown is a whole covering, commonly made of porcelain, metal or ceramic material, that replaces the enamel layer of the tooth. It is bonded on top of a healthy rooted tooth that needs strengthening and protection. A bridge is a device that uses two crowns to fill in a gap in the smile from a missing tooth. The crowns cover the two adjacent teeth, called abutments. The center of the bridge called a pontic, is a false tooth that is designed to fit in with the rest of your smile.

Who Is a Good Candidate for Crowns?
Since a crown is only a superficial covering, the inner parts of the tooth have to be healthy to support it. A dentist must examine the inside of the tooth using X-rays to confirm that the tooth is healthy enough for a crown. Patients who have root canal therapy are also candidates for crowns.

Who Needs Bridges?
Someone who has one or two missing teeth and wants a reasonably secure and semi-permanent solution may benefit from bridges. The bridge is needed to help make it easier to process food, maintain the structure of the jawline and give the patient a smile to be proud of. The abutment teeth have to be healthy enough to support a crown. Generally, a good candidate for a crown will likely also be a good candidate for bridgework.

How Long Will These Dental Solutions Last?
A crown or bridge can last for between five to 15 years or even longer if you take care of your teeth. But no worries, because when the time comes your dentist can redo the crown or bridge and give you another 15 or more years to enjoy your new smile.

Contact your Noblesville, IN Dentist
Call your Noblesville, IN dentist to find out if a crown or bridge can help give you a better smile. These two restorative treatments can help fix a number of common dental problems.